This article goes through the steps to connect ALGOGENE with your IG trading account (either demo account or real trading account). The overall workflow is summarized in this diagram.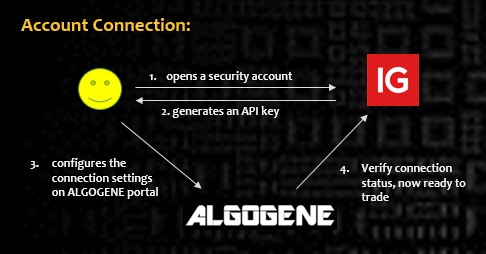 Who is IG?
IG Group, a UK-based company and regulated by the FCA, is one of the largest retail brokers in the world, providing stockbroking, contracts for difference and financial spread betting. It is listed on the London Stock Exchange (LON: IGG) and a constituent of the FTSE 250 Index.
Open Account from IG
Create a new trading account from IG

For real trading, register the funding method and make deposit to IG
Create and Activate Trading Account from IG
Login IG portal, click 'Add an account'

There are 2 types of trading accounts, namely CFD and MT4. The difference depends on the execution platform, trading volume and asset class you going to trade.

MT4: mainly for FX and Commodity trading, with smaller "minimum lot size" requirment
CFD: cover all IG instruments such as FX, commodities, crypto, stocks, futures, options. Besides, it usually requires a higher minimum lot size compared to MT4.

Record down the account number from IG portal
Generate API Key from IG
Login IG portal, go to [Settings] > [API keys]

Click "Generate new key", then record down the followings:

API key
Web API login user name
Web API login password
Config on ALGOGENE
Follow 3 simple steps below, you will then be able to deploy and trade your Algo with IG.
Login ALGOGENE portal
Go to 'Settings' page
Update the connection settings accordingly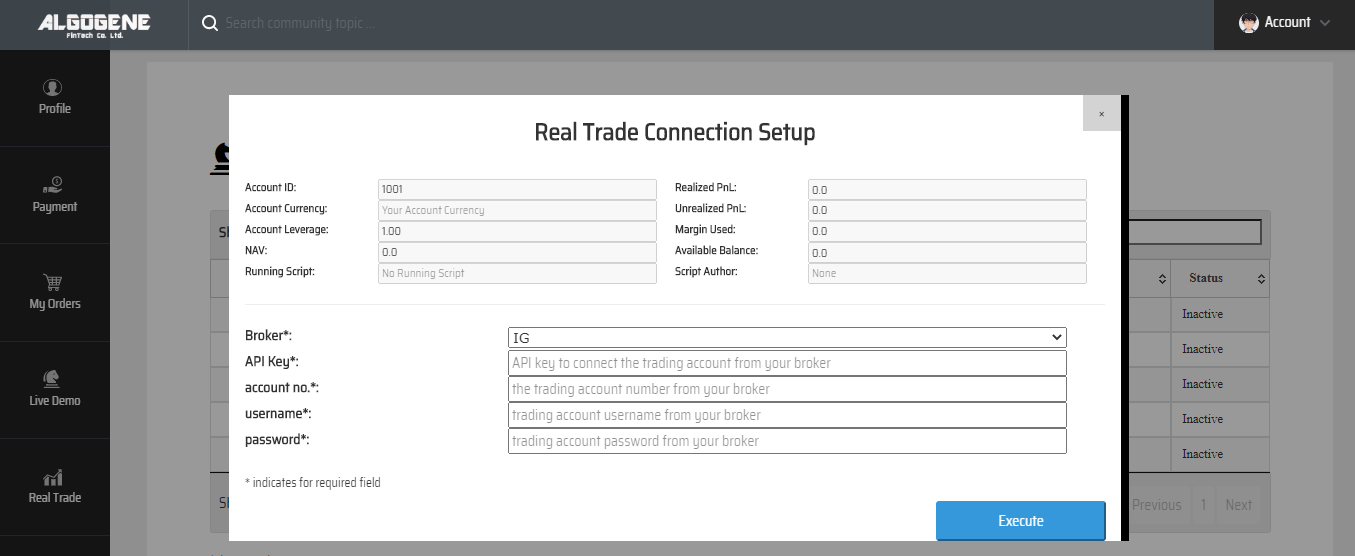 Happy Trading! :)