admin
This article goes through the steps to link up ALGOGENE with your Telegram app.
What is Telegram?
Telegram is a popular instant messaging application, with 400 million monthly active users as of April 2020. It provides an end-to-end encryption for secret chats, and exchange photos, videos, stickers, audio and files. The apps are available for Android, iOS, Windows Phone, Windows, macOS and GNU/Linux.
What can I do after linking with my ALGOGENE account?
It enables you to manage ALGOGENE's investment bots. For examples,
receive trading signals
place trade instructions
consult and interact with investment bots
more ...
How to link up my account?
Get Telegram apps installed in your device.
Download for Android mobile version from Google Play
Download for iOS version from App Store
Download for desktop version from here
Login ALGOGENE portal (https://algogene.com/login)
Go to [Settings] > [User Profile] > [System Info], press "Connect" Telegram button
Click "OK" in the pop-up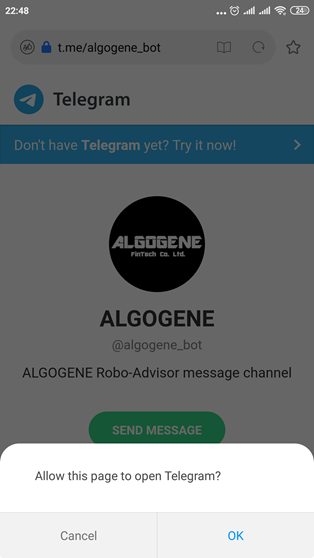 In your Telegram app, press "Start"